Team USA 2022 CWC Blog – Semi Finals, Finals and the Finish
Sankar Jayram
The day we beat the West Indies in the last Round Robin game and secured our place in the middle tier of the World Cup, it was time to celebrate the fact that we could not go lower than 8 out of 12 teams and we could go as high as 5! A new restaurant, Sankalp, had just opened a couple of days back and it was time to gather there for a meal together and celebrate. A few players could not take in more Indian food and opted out but all the ones there had a blast.
A day off and a surprise: The rest day in between the round robin and the semi-final was mostly spent in the rooms recovering or walking on the beach. Jay, Uma, and Chetan decided to gather the folks for a wine tasing and samosa evening. It was wine from their backyard vineyard and samosas from the local Indian restaurant that had probably doubled its revenues in the past couple of weeks because of Team USA! When folks came over for the evening, there was a surprise waiting for them – Janak Patel – Captain America had finally made it to Australia in time for the last two games! It was a great evening to get folks together and band before the playoffs.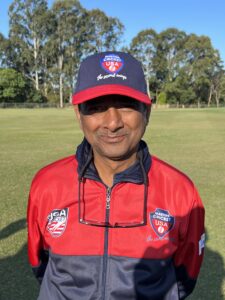 Semi-Final – USA vs Wales:  The Wales team was reputed to be a formidable opponent and that turned out to be true. Mihir handed the reins to Janak after demonstrating tremendous resilience through the ups and downs of having to take on the captaincy amidst uncertainty and leading a team as young (young?? – to be clarified later) as the USA. USA decided to bat first and the tight bowling of Wales had us reeling at 16/3. Janak played a captain's knock and held the inning up at one end and built partnerships with Dave R and then with Wayne. After Janak departed, Wayne and Mike Riley then helped get the score to 133/6 in 45. Dash struck early as expected and there was a glimmer of hope with Wales at 16/2. But from that point on the partnership was unbroken and Wales cruised to an eight wicket victory.
Final – India vs USA: This was a very interesting set up. More than half of the USA team members had grown up in India and some of the team members on the two sides found common friends/restaurants/schools from childhood. This was the one game where many Team USA members knew and sang both the national anthems being played.
India was as formidable as anticipated. Having won the toss and electing to bat, the Indian openers went about the task of building an inning with a display of cricketing ability, patience, and single taking that was surgical. By drinks, no wicket had fallen and the opening pair was cruising to their hundred run partnership when 12th man Jay was brought in to bowl for his reputation of breaking partnerships. He delivered immediately and one of the set opening batsmen was back in the pavilion. India however had a full stable of batsmen and the next pair and the pair after that continued to build on the great start until Mihir came in and bowled a beautiful spell and picked up a couple of wickets to slow things down. Facing a target of 219, USA started in a disastrous manner losing Kirit to a run out, CK to a questionable LBW and Janak, Dave R and Kumar all back in the pavilion with the score at 22/5! Mihir and Wayne then had an 80 run partnership. Mihir fell in an effort to accelerate and try to fight for a win. Running between the wickets was an issue with the wear and tear of the tournament taking a toll on several batsmen. After Mihir fell, the incoming batsmen all tried to slug it out for a win, with Baba sparking things with a couple of boundaries, but the asking run rate had climbed to over 10 and one by one they fell and USA folded at 162/9 in 45 overs.
Wayne had finally found his batting form staying not out in both games and getting the losing side player of the game award in both!
Closing it all out: Having finished the 7th game in 9 days, most (not all) of the team members opted to go sightseeing the next day (instead of going for the grand finals of Pakistan vs New Zealand. Then it was time for the Closing Ceremony. All the teams gathered in a big barn concert hall and were seated before the Inaugural O60s World Cup Champions, Pakistan, were ushered in to the tune of the Pakistan national anthem! The Pakistan team had one of our own US Masters player, Syed Abid Naqvi, on their squad and he got a loud cheer from the USA team when he walked in.
Now for an explanation of my comment on the youth of Team USA. The Pakistan Veterans Cricket organization was established in 1998, while US Masters Cricket organization was created in 2021!! All the other nations in the World Cup except the USA have been playing "veterans" cricket for many years and decades. Considering that, we should all be very proud that we were able to participate on equal footing and finish 8th in this World Cup.
Although most people at the closing ceremony were busy enjoying and celebrating the fact that all of us are over 60 and still participating in an intensely competitive tournament, the memories of recent games were still nagging some of our players. I found one of our batsmen talking to the umpire of our previous game trying to convince the umpire that the LBW decision was incorrect while a bowler was trying to get the umpire to confirm that his bowling action was not chucking! I was an accomplice since I provided the video clips to our two players as evidence in their discussions with the umpire :).
Everyone thanked our fan group of women and child for coming all the way and cheering us on and it was time to board the bus to the hotel one last time.
The Unsung Hero – Dinesh Patel
Dinesh's name was not on the roster that was officially published. This unsung hero decided to spend his own money and come with the team to Australia to just help the team. What all did he not do there – Making sure the managers are on top of things, carrying things, helping everyone with their kit bags, being the official scorer for every single game, hoisting the flag and lowering it every game, participating in practices, think of anything he could help with, he did! Kudos to this unwavering selflessness displayed by our unsung hero from Southern California. It is fitting that the featured image of this last blog is his profile pic.
And it is over as quickly as it started!  Departure day – everyone gathered in the lobby as always but this time with all the suitcases in addition to the kit bags. Some team members had already left earlier that day. The rest of us piled into the bus for the journey back to Brisbane. After a half day of sightseeing in Brisbane it was time for Uma and me to get off the bus and head to Sydney for a weekend getaway. We did one loud cheer in the bus and as I watched the bus pull away I realized how much I was going to miss this new family I had found so late in my life and how much I was going to cherish the memories of every triumph, every loss, every disagreement, every meal of this re-lived college-day hostel life of 3 weeks! Thank you everyone who made this journey feasible.
Special Mentions: Special mention to Managers Khurram, Mathew, Dinesh, Captains and Vice-Captains Mihir, Janak, and Masood for all the organization on site. Thanks to Chetan for helping with topics for the blog. Mike Riley stepped in at the last minute when Janak could not join us in time and in spite of being the oldest among us was probably the most fit and fastest of all. Greg hit the only six for Team USA and Bharat is the only player who batted, bowled, and kept wickets. Mike Griffith's daughter for being the youngest member of our fan club. Prabhakar, Chetan and Kumar for always being willing to fill water bottles for players. Wayne and Dash for coaching the team. Baba and Bharat for the commentary in the video feed.
I am proud to sign off as a member of a Team USA that finished 8th in the World Cup and blazed a trail in international cricket hopefully for future generations of USA cricketers!
Thank you for reading the Team USA Over 60s Cricket World Cup 2022 blogs.
P.S. Team USA Stats attached below the photos.
.